SPIRALVISCOMETER(PCU-285)
SPIRAL VISCOMETER((PCU-285)
International standard
for solder paste viscosity measurement
Touch panel
Automatic measurement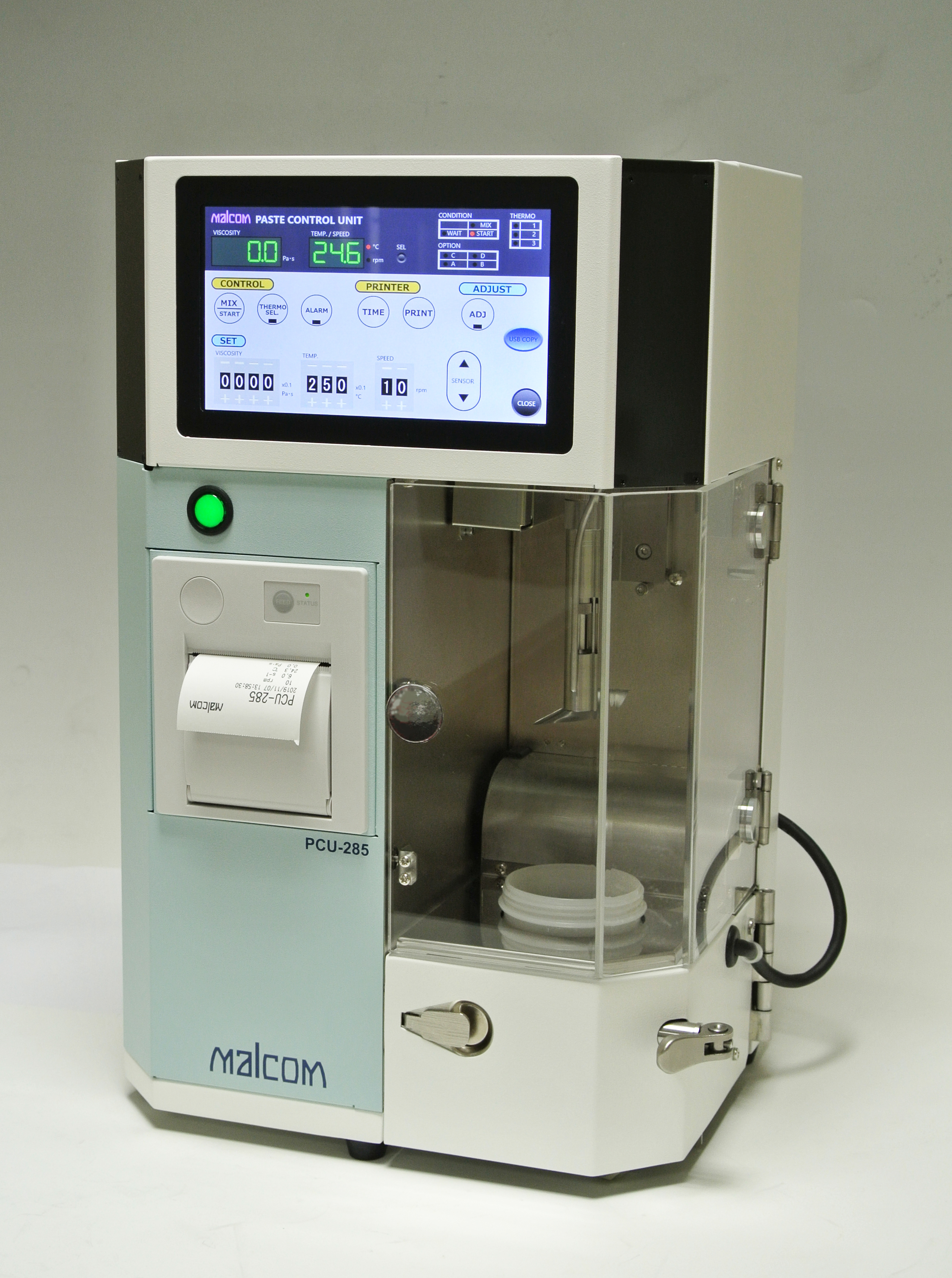 Feature
■ Measure TI (Thixotropic Index) & R (Viscosity Non-Recovery Rate) according to JIS Z3284.
■ Newly-designed Compact Thermostat realizes better workability.
■ Touch Panel Display improves usability and visibility.
■ Automatic measurement and save data.
■ Optional Printer is also available.
product specification
Item
Specification
Model
PCU-285
Viscosity Sensor
MALCOM Spairal-punp type
Viscosity Range
5Pa・s ~ 800Pa・s
Speed Range (N)
1~50rpm
Shear Rate (D)
(0.6 × N)s-1
Measurement Accuracy
±5% indicated value
Speed Accuracy
±2%
Repeatability
±0.5%
Temp. Measurement
0~50℃
±0.5℃
Temp. Control Range
Room temperature +/-5C (setting range15~35C) with built-in heater unit
Display
Touch Panel Display 7Inch
Measure Mode
PC Connect、PCU-200-Mode、Program Measerment-Mode

Build-in Printer(option)

Temp, Visc, S.Rate, RPM, Date, Time

(It must be ordered with PCU-285)

Automatic Measurement
JIS Standard method、Saved Inspection Program(MAX 5Memories)
OnLine measurement ※
Interface
USB-Type-A×2、USB-Type-B×1, Ethernet×1
Power Supply
AC100~240V 50/60Hz 
Power consumption
Max130w
Usage environment
Temperature: 10 ℃ to 40℃ Relative humidity: 10 to 90% (no condensation)
Outer Dimension
275W x 440H x 215D (mm)
Weight
Approx.13kg
* The measurement accuracy is guaranteed with the silicon oil by 10 rpm.
* The above specifications are subject to change without notice.